About Heyward CPA
Virtual CPA Firm
Heyward CPA is a local Durham, NC virtual CPA Firm providing local businesses and individuals with tax and accounting services. We know our small business owners take pride in their business - and we do too - which is why we work hard to reduce your expenses and increase your productivity. We also take our knowledge in savings and translate that to reliable tax services to help our individual clients maximize income and minimize taxes.
Heyward CPA was established as a full service CPA firm to serve the tax, accounting and consulting needs of individuals and small businesses in the Durham area. We strive to strike the perfect balance between small, local, attentive service and professional experience and expertise.
We believe that listening is the foundation of a lasting client relationship built on trust and respect. Our goal is to provide financial leadership, guidance and advice that you can really use to help you grow your business and become more successful.
---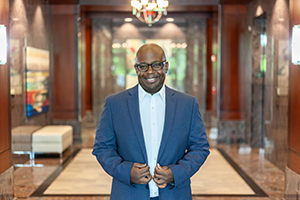 James E. Heyward, Principal Associate
I come from a family of entrepreneurs. Growing up in Queens, I worked our hot dog wagon, painted walls for my uncle's contracting company, and performed bookkeeping tasks in my father's accounting practice; I even cleaned a friend's room for some coins.
I started my first business at Duke University while working toward a sociology degree. As a music lover, I volunteered at WXDU, the campus radio station, WXDU, as a mixshow DJ and music director for the fledgling Hip Hop department. The exposure from the station led to paying gigs, record label contacts, and the launch of my marketing and DJ company, TakeTwo Entertainment in 1995. A record store, Madd Waxx Records, followed in 1999.
Like many small business owners, I wore every conceivable hat: Chief Executive, Sales Manager, Head of Marketing, Director of Operations, Bookkeeper, Janitor. To stay on top of my companies' finances, I had to develop a strong proficiency in QuickBooks. The more I worked, the more I realized how much I enjoyed financial management.
After discussions with family, I decided to channel my interest in the financial aspects of my businesses into a career as a Certified Public Accountant.
My journey towards a CPA license included a stop in a public accounting firm and another at a publicly-traded multinational company, both of which provided invaluable experience. Eventually, I passed the CPA exam and obtained my license in 2008. Two years later, Heyward CPA was launched in my spare bedroom.
Heyward CPA was started with the aim of helping small businesses grow and helping small business owners reach their goals. As an entrepreneur myself, I have a unique perspective on running a business. My accounting training combined with years of business experience allows me to understand businesses' functions beyond accounting like sales, marketing, and operations.
I am a believer in small businesses and the brave entrepreneurs who founded them. The thrill of entrepreneurship is difficult to explain. Those who choose this path, understand that entrepreneurship offers a chance at financial independence while pursuing a passion and the opportunity to make a lasting contribution to the communities that have provided us with so much.
---
Oscar Heyward, Founding Associate
Oscar L. Heyward has served as a consultant to small business for almost forty years. His career began at Arthur Anderson & Co. where he spent five years as a Senior Accountant in both the audit and tax sections of the firm. Upon leaving public accounting, he served as Controller at Optimum Computer Inc. and subsequently held controllership positions at three major companies including the Brooklyn Navy Yard and Development Corporation. For more than 15 years, Oscar served as an Adjunct Professor of Accounting and Taxation in the CUNY system.
In 1982, he decided to start his own business to serve as a consultant to small companies, non-profits and churches. His efforts lead to the formation of A-OH Business Services, where he has had the opportunity to consult organizations with revenues from fifty-thousand to two-million dollars and help manage over two-hundred million dollars of assets.
Oscar holds a Bachelors of Science in accounting from Virginia State University and a Masters of Business Administration from Long Island University.
---
Tanya D. Ayscue, Ph.D., Operations Manager
Dr. Ayscue has been with the firm since 2015 and has been instrumental in helping the firm grow. She is responsible for the core business operations. She also oversees our administrative functions for the firm including human resources, accounts payable and accounts receivables and procurement.
Tanya holds a Bachelor of Science in Business Administration (Marketing) from North Carolina A&T State University. She also holds an MBA (Management) from Strayer University and a Doctorate in Leadership Studies from North Carolina A&T State University.
Tanya has a diverse background and over 25 years of experience in business operations, executive leadership support, project management, management, and quality management.
She is the owner of TDA Services, LLC located in Raleigh, NC.
---
Nicole R. Cooper, MBA, Senior Associate
Ms. Cooper joined the firm in February 2018. Nicole specializes in AR Cash Management and Collections as an Invoice Sherpa Advisor, along with Account Reconciliations, Tax Preparation, and Financial Statement Analysis.
Nicole received her undergraduate degree in Accounting from North Carolina Central University in 1995, and her MBA in Public Accounting from Strayer University in 2017.
She joined the team with 23 years of experience in various corporate accounting areas including healthcare, private retail, and telecommunications.
Acting on her strong desire to help individuals and small business owners, Nicole opened her own business, Quality Financial Services, LLC in 2010.
She provides a variety of contracted accounting services to individuals, small businesses, non-profit and religious organizations in the Triangle area.
---
Kory Franklin, Director of Business Development
Kory has implemented a work philosophy centered on progress, execution, and achievement of results, all backed by 20+ years across diverse industries. With expertise in sales, business development, financial analysis, project management, and Fintech, Kory strives to make an impact by teaching business owners strategies that help them to propel their companies forward for increased brand visibility and market reach.
Contributing as an integral member of his clients' teams, Kory focuses on driving business initiatives and delivering support that helps clients achieve scaled growth and financial sustainability. Kory leads as a resource and growth strategist, connecting the business dots to help his clients identify areas of improvement, formulate plans of action and then achieve aggressive top-line and bottom-line results. As such, Kory maintains a reputation for his innate ability to fuel connections with others, leverage data-driven methodologies, and improve the footprint and recognition of today's brands, helping them land major and measurable wins.
Kory is responsible for the firm's business development and connecting the right people with the right solutions and resources. Kory also leads BizTherapy, a coaching program for small business owners on how to develop strategies to grow their businesses.
---
LaTarsha Pough, Marketing Coordinator
Ms. Pough is responsible for the firm's social media presence. She also assists with advertising, firm communications, and editing content. LaTarsha is also co-host of the Financial Flipside podcast.
LaTarsha holds Bachelor's degrees in Comparative Area Studies and Art History from Duke University, a Master of Arts in English from Duke University, and a Master of Science in Speech-Language Pathology from the University of North Carolina, Chapel Hill. LaTarsha joined Heyward CPA in 2013.